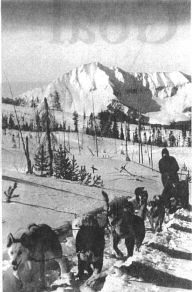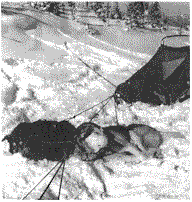 These dogs were crossed with Siberian huskies, which typically have blue eyes. Although some of those blue eyes were evident, there were also some dogs which had some greyhound blood in them for speed, and some dogs with a touch of hound dog in them for power.
Each dog has it's own personality, and all of them are very comfortable with people, allowing you to pick up their feet, for instance, to put them through the harness. One dog in the pack, I think, has the ability to smile when you pat its head.
Up until the thirties in remote parts of Alaska, sled dogs were used as a means to reach remote places to deliver mail. The old credo "the mail must go through" was taken seriously.
Now, sled dogs seek employment in the race circuit, which has kept the tradition alive. Every weekend there is a race somewhere; from the John Beargrease in northern Minnesota, to the Iditarod in Alaska.
You have heard of the Iditarod, undoubtedly, but what is it? The Iditarod is a race from Ac\anchorage to Nome. The sled dogs that participate in this race have such endurance that, ideally, they cover the Iditarod trail in ten days. That is nearly incomprehensible. Alaska is by far our largest state, and this race is run from the southern ocean to the north slope of the Bering Sea, the Arctic Ocean, no less. Just over 1,000 miles. And cold? I would bet. It would make Montana seem mild indeed.
At Spirit of the North, you ride for a half day, which will take you out about eight miles. In that eight miles, you will see sights you haven't seen before, sides of Big Sky that are closed to the public. You get to legally trespass on Moonlight Basin property, and are welcome to do so. Ever wonder what is behind that gate to Ennis? Ever wonder where mountain goats winter? Ever wonder about the meaning of life? Well, you will get answers to the first two questions. For the third reflect as you are whisked along. You will see facets of Long Peak you didn't imagine, as well as unobstructed views of fan mountain. The golden fields of Ennis can be seen down the canyon. In fact, I swear you make it half way to Ennis on the ride. Go sled dogging, or buy half of the valley to gain access. Your choice.
I was joined by friendly musher of the moment, Margie, an experienced Montana wrangler who more often than not was wearing a smile. In the fall, she trained the dogs for cardiovascular conditioning by running them in line before a four wheeler. When they were ready, they dragged the four wheeler. They maintain this high level of activity on a diet enriched with protein and fat. Like eating straight peanut butter. The lead dog, she explains isn't necessarily the strongest, but the smartest. It needs to know gee and haw, right and left, and to be an enthusiastic puller. The dogs right in front of the sled pull a large share of the weight. Your responsibility as sled operator isn't to steer them, they know the trail, but to keep your balance, leaning like you might to keep a catamaran upright. No worries, however; you can do it. For skiers, it is second nature, since the two runners are just like skis. But that's not to say anyone isn't qualified.
If riding is more your style, you are more than welcome to ride inside the sled. In fact, this is where you start with another driver. It is a neat perspective on ground level with the snow flying off the dogs paws as they rumble forward.
You get to participate in all parts of the operation. When was the last time you saddled your horse for a trail ride? Well, you can harness the dogs, if you want. Participation is optional. I would do it.
The Spirit of the North was started by Jesse, a sled dog racer from Ennis, when she was just seventeen. It helped pay for her racing and gave an opportunity to the dogs that didn't make the team. That is not to say these dogs aren't fast, because as we have discussed, they are faster than you will believe. Ever since, for five years, dogs have been running in Moonlight.
Remember, save the mush for your cereal, please, as Jim advises with wit. Real mushers say "all right" to get their team going. It is hard to resist driving them on with mush, mush!! You could, they just might not respond.
Spirit of the North Dogsled Tours can be reached at (406) 995-3424